RIO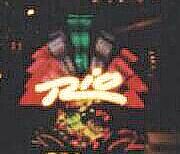 ALL-SUITE HOTEL AND CASINO
A ROOM AT THE RIO
We often wondered what the suites were like at the RIO. In January of 2002 we finally had the opportunity to stay at the RIO for four days. Our minisuite was up on the 36th floor of the Masquerade Tower facing south. When we looked out of the windows we had a great view of the Palms, the resorts on the Strip south of Flamingo Road, as well as the planes circling the airport.

photo looking down from the room
at Flamingo Road and the Palms

<! --------------------------------------------------->
| | |
| --- | --- |
| larger image | To the right of the bed were the windows. On the left (but not visible) was a table and two chairs. Across the room was the sitting area. |
| larger image | There was a nice, large, comfortable sectional which provided a clear view of the television. The sitting area also had a glass-topped coffee table and a huge lamp on an end table. |
<! --------------------------------------------------->
larger image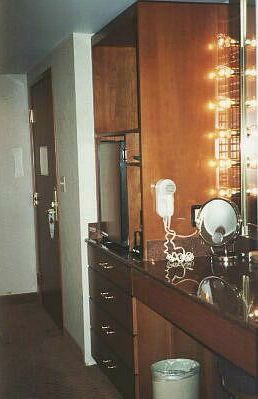 Upon entering the minisuite, the sitting area was straight ahead. To the left of the entrance was the dressing area. A large closet with mirrored doors was on one side (not visible). On the opposite side were cupboards and a vanity with a large mirror.
larger image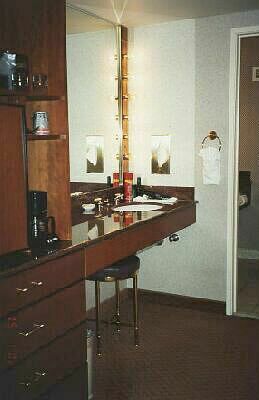 To the left was a fridge and coffee-maker. The vanity was well-lit and had a large mirror, a make-up mirror, hair dryer and sink. Drawers were provided for clothing. The closet on the right had a safe and an iron/ironing board.
larger image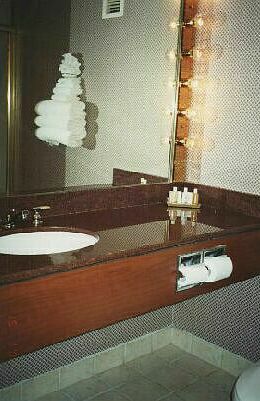 In the bathroom plenty of towels were provided daily. Bottles of shampoo, conditioner and lotion were also replenished every day. There was a large tub with a shower. It was very convenient having the two sinks/vanities in separate rooms.

<! --------------------------------------------------->
OTHER INFORMATION ABOUT THE RIO
There is a shuttle running from the Rio to Las Vegas Blvd. A pedestrian walkway (adjacent to Flamingo Road) has finally been constructed so people can now cross over the highway to walk from the Rio to the Strip.
MASQUERADE VILLAGE SHOW IN THE SKY features four different performances.
Village Street Party (familiar dance tunes)
Disco Swing Parade (swing and seventies music with a disco beat)
Venice Parade (includes a gondola complete with moving swans)
Ipanema Beach Party (performers in bikinis and beachwear, singing and dancing)

links - Masquerade Village Shows | Rio web pages
<! ------------------closing info ---------------- >
*** VEGAS INDEX ***

October, 2002

photos are the property of J.Giannetta